MUMBAI, INDIA, Sept 27, 2023 – (ACN Newswire via SeaPRwire.com) – StrategINK Solutions Private Limited successfully concluded the 3rd Edition of DAICON, the leading DATA|AI|CLOUD conference on 22nd September at ITC Maratha, Mumbai. The esteemed conference, co-powered by SADA & Google Cloud, is swiftly carving out its niche as the premier convergence point for innovators, experts, and enthusiasts in the realm of Data, Artificial Intelligence and Cloud.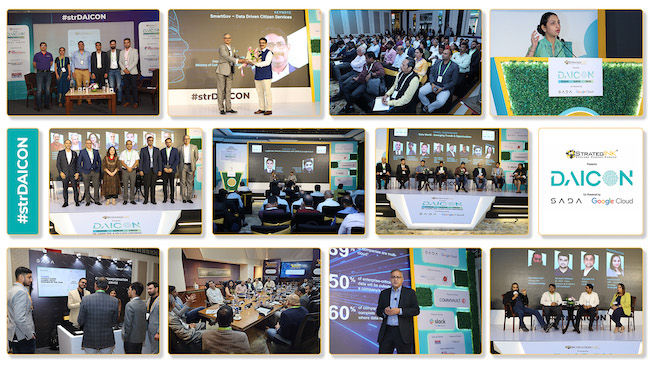 The one-day conference brought together a dynamic assembly of 50+ subject matter experts and luminaries from various sectors. Boasting participation of over 300 attendees, DAICON 2023 was a resounding success and has set a benchmark for holistic industry engagement.
We extend our heartfelt gratitude to our esteemed sponsor partners, whose unwavering support contributed to the resounding success of DAICON 2023. Our sponsors included industry giants such as SADA Systems, Google Cloud, Commvault, Dell Technologies, Pentagon Systems & Services Pvt. Ltd., and Slack, who played a pivotal role in making this event possible.
With a focus on the powerful trilogy of Data, AI, and Cloud, DAICON brought to light the latest advancements, trends and best practices through numerous panel discussions and sessions that are shaping the future of business and technology, leading the way in enabling transformation through innovation.
While each session catered to specific themes and nuances, some of the standout sessions included:
Power of We by StrategINK: An invigorating session that explored the cumulative power of collaborative innovation.Keynote by Sumnesh Joshi, Deputy Director General, Ministry of Communications and IT: A captivating discourse on 'SmartGov – Data Driven Citizen Services', setting the tone for the possibilities of a data-driven future in governance.Panel Discussions: These served as the pulse of DAICON, where industry experts dissected topics ranging from the confluence of Data, Cloud & AI to understanding the transformative potential of the Metaverse in shaping customer experiences.Closing Keynote: A thorough examination of the 'Digital Personal Data Protection Act', shedding light on its potential ramifications on enterprise data policies.
"The 3rd Edition of DAICON was not just an event but a celebration of innovation and futuristic vision," said Santanu Ganguly, CEO, StrategINK, adding that "Witnessing such a dynamic ensemble of thought leaders, industry veterans, and next-gen thinkers converge under one roof is truly inspiring."
For more information about StrategINK Solutions and its future events, please visit: https://www.strategink.com/
About Strateg
INK Solutions: A team of pragmatic and experienced Industry Experts, who passionately help businesses with a variety of services towards accelerating 'Business Innovation & Go-to-Market' pursuits. With core offerings of Research based Business Insights, Content driven Marketing Solutions, Digital Transformation Consulting & Advisory and Learning, Enablement & Skill augmentation Services, we catalyze & accelerate business transformation, digital-led innovation, sales acceleration, skill enhancement, and customer delight. With our rich, diverse & hybrid model of digital and physical tools, techniques and industry-proven frameworks and best practices, we develop unique solutions to address the complex business challenges of our clients and create compelling value through sustainable innovation.
For additional information, please contact:
Manish Sharma
Chief Business Officer
msharma@strategink.com
Copyright 2023 ACN Newswire via SeaPRwire.com.